Organic walnut halves
70.011
Organic walnut halves
70.011
Walnuts from certified organic farms are broken into halves after the shell has been removed and vacuum-packed in aroma protection packaging.
Benefits
Taste, nutritional value
Halves have only very small breakage (quality-preserving)
gluten-free
---
Fields of Application
Baked goods muesli specialities cheese production bread honey specialities
---
Packaging
10 kg cartons (content 2 bags of 5 kg aluminium aroma protection)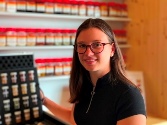 Fragen zum Produkt?
Wir stehen Ihnen gerne zur Verfügung.