Organic beet syrup
29.014
Organic beet syrup
29.014
Organic beet syrup (="beet pulp") is the concentrated juice of sugar beets from certified organic agriculture without their plant fibers and without additives. It is uniformly dark brown, viscous and is obtained by thickening beet juice pressed from the cooked beet pulp. For production, the beets are carefully washed, crushed by machine and then steamed at high temperatures for up to 13 hours. The temperature treatment partially converts sucrose into glucose and fructose. The resulting pulp is then further filtered and the resulting juice is steamed/boiled until the viscous sugar beet syrup is obtained. Thus, beet syrup is a purely natural product with no additives.
Your recipes will benefit from the mild rounded sweetness this beet syrup brings to your products and can be seen as a homegrown alternative to maple syrup. It is already being used successfully in organic baked goods, as an organic spread, to enhance sauces and generally as an alternative sweetener.
Benefits
mild "rounded" sweetness of full flavor
brings molasses into the product
gluten-free, vegan
---
Fields of Application
Spreads bakery products sauces sweeteners specialties
---
Packaging
10 kg bucket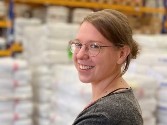 Fragen zum Produkt?
Wir stehen Ihnen gerne zur Verfügung.
Application
Organic beet syrup from sugar beet
Compared with normal sugar, the molasses is not separated in beet syrup. As a result, molasses and beet syrup differ only slightly in their mineral content and nutritional value. Synonyms for beet syrup include golden juice, sugar beet syrup, beet syrup and beet juice.
What makes organic beet syrup?
Using organic beet syrup gives you a mild rounded sweetness in your recipes, this is considered very good by consumers.
How is organic beet syrup obtained?
Organic beet syrup is made from sugar beets. Harvesting/processing usually starts from September/ October and is called beet campaign. Organic sugar beet syrup is a natural and very popular sweetener. In Austria, the cultivation of sugar beet has a long tradition.
How is sugar beet syrup used by processors?
For your recipes when baking bread, the syrup helps to get a very nice brown bread crust. But this sugar beet syrup can also be used in sauces and as a spread. A little tip at the end, it can serve well as a substitute for usual beet sugar.