Organic tomato flakes 9 mm
70.079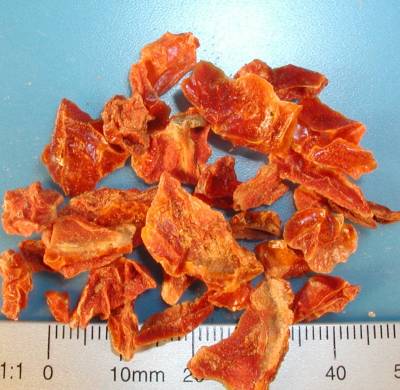 Organic tomato flakes 9 mm
70.079
Field-fresh tomatoes from controlled organic cultivation are washed, cleaned, cut and dried in warm air to preserve vitamins. 1 kg of "BIO tomato flakes" is made from 15 kg of fresh tomatoes. Organic Tomato Flakes are band-dried from high quality sun-ripened tomatoes from organic farming, which makes them extra crispy. They are made from 100% tomatoes, there are no preservatives or other additives. In your recipes, these crispy flakes can also replace fresh diced tomatoes after adding water (see video).
Benefits
the easiest way to add tomato pieces to a recipe
easy to use
natural, without additives
---
Fields of Application
Snacks bakery products pasta dry soups meat and fish dishes ready meals sauces spreads specialities
---
Packaging
18 kg carton with PE inner bag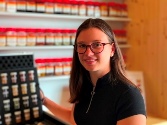 Fragen zum Produkt?
Wir stehen Ihnen gerne zur Verfügung.
Application
Production and Applications
Tomatoes come originally from America. The Mayas cultivated these nightshade plants already in the first century before Christ. Columbus and other conquistadors brought the tomato to Europe where it then became native around the Mediterranean. Initially, the tomato plant was used only as an ornamental plant, only later it was used for dishes. They come in a variety of colors: yellow, green, pink, red, orange, brown, white, purple and black. There are also striped and marbled varieties. Like potatoes, peppers, melanzani, they belong to the nightshade family. Tomato flakes can be produced either by spray drying or roller drying. With tomato flakes you can make your own tomato soup or tomato sauces in no time.
How do I use organic tomato flakes 9 mm?
For tomato soup, for example, add about 10g of flakes to 400g of cold water and then boil it for 10 minutes. Since organic tomato flakes have a very low water content, they can absorb a lot of water and are therefore very well suited to thicken your sauces, soups and recipes in general or make them more creamy. Alternatively, organic tomato powder 80.030 is often used. The typical fresh and fruity aroma will convince you. Our flakes are not preserved with salt, but like many other spices only dried by means of hot air.
Interesting facts about BIO Tomato Flakes 9mm:
If you buy organic tomato flakes please make sure after use that they are always hermetically sealed, they are very hygroscopic (=water attracting).