Organic raisins classic
70.009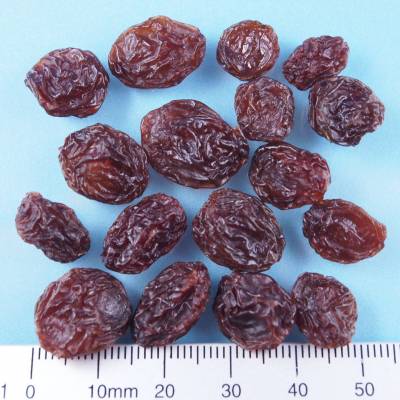 Organic raisins classic
70.009
Grapes from organic farming are sun-dried, dipped in vegetable oil, cooled and packaged. The term "raisins" is a collective name for all types of dried grapes of average color.
About 4-5 kilograms of fresh grapes are needed to obtain 1 kilogram of raisins, the final water content is about 15%. Due to the particularly thin skin of these seedless grapes and the very aromatic taste, they are perfect to be processed. They are ideal for nut mixtures, baking, desserts and cereals.
Benefits
classic quality especially for mueslis and baked goods
---
Fields of Application
Baked goods dough mixes muesli fruit snacks specialties
---
Packaging
12.5 kg carton with PE inliner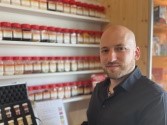 Fragen zum Produkt?
Wir stehen Ihnen gerne zur Verfügung.
Organic raisins classic
Are raisins and sultanas the same thing?
The dried fruits of the vine are commonly called raisins. The difference between raisins and raisins is quickly explained. The term raisin is an umbrella term for all dried grapes. The name sultanas refers to the variety of grape from which the fruit comes. The Sultana grape is seedless and has a light-colored thin skin. Other varieties include currants and the Austrian-named Zibeben, but these play only a minor role.
How healthy are raisins? Are too many raisins unhealthy? Are raisins good for digestion?
By drying the grapes, the nutritional values (vitamins, sugars, etc.) are concentrated to. This also increases the calorie content. There are different opinions about how much raisins should be consumed per day and what time of day (e.g. in the evening) is the most suitable. The positive effects on digestion of dried fruits in general and raisins in particular have been known for a long time.
Where are organic raisins for processors used in bulk?
Most often raisins are used in bakery products. For example, in Gugelhupf, raisin rolls and various cake variations. But also soaked raisins and the raisin water enjoy great popularity. When it comes to weight loss and nutrition, a high value should be placed on the quality of the best dried fruits. Here, the dried currants and raisins play an important role in your healthy recipes.
When buying raisins, make sure that they are of organic quality. This ensures that they have not been treated with sulfur. Sulphurized are the perishable grapes to achieve a better shelf life.