organic rape seed oil
90.049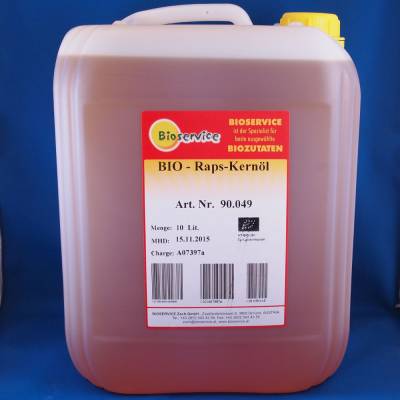 organic rape seed oil
90.049
This organic rape seed oil is pressed from peeled rapeseed kernels. During the peeling process, the bitter substances under the husk are separated and the subsequently pressed "organic rape seed oil" no longer contains any undesirable flavourings. A particularly mild taste and a very rich content of monounsaturated fatty acids - comparable to olive oil - are the main features of this oil. In addition, valuable secondary vegetable substances and vitamins are preserved.
Our cold-pressed (=native) organic rapeseed oil is ideal for cold and warm applications. Among other things, it is also successfully used for pickled cheese. Alternatively, our organic sunflower seed oil is also suitable. Rapeseed oil can be used in the same way as all other high-quality oils. The advantage compared to other oils is the higher heat stability of organic rapeseed oil.
Benefits
very heat stable, therefore universally applicable
ecologically harmless alternative to the often criticised palm fat (palm oil)
emulsifying effect (as lecithin-emulsifier alternative
---
Fields of Application
Salad dressing marinade marinating vegetables bakery products as an alternative to release wax etc. Ideal for frying and roasting ) soups specialities
---
Packaging
10 l canister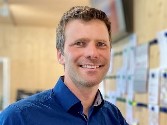 Fragen zum Produkt?
Wir stehen Ihnen gerne zur Verfügung.
Organic rapeseed oil for food producers
Which is the best rapeseed oil?
For our rapeseed oil only rapeseed from controlled organic origin is used. Rapeseed seeds consist of about 40% oil. Before the oil is pressed from the small black seeds, the husk (contains bitter substances) is removed. Thus, our rapeseed oil is much finer in taste. Due to the missing shell, the oil can be pressed at lower temperatures. In addition, the frictional heat in the screw press is lowered and fewer mucilages and free fatty acids dissolve into the oil.
Canola oils come in all sorts of different variations. Refined oils can be refined or purified by certain processes. Degumming, deacidification, bleaching and steaming (deodorization) are the common processes used here. When edible oil is refined, unsaturated fatty acids are usually also lost. You should therefore look out for cold-pressed unrefined rapeseed oils when buying.
What is rapeseed oil used for?
The high content of unsaturated fatty acids and omega-3 fatty acids makes it the perfect oil for salads, vegetables and raw vegetables. From the health aspects, it can be seen as a domestic alternative to olive oil. Due to its good heat stability, it is also very suitable for braising and baking.
Interesting facts about organic rapeseed oil:
Again, it should be mentioned that rapeseed oil is not the same as canola oil. Rapeseed oil is pressed from the unpeeled rapeseed and therefore contains more bitter substances that are in the husk. Our canola oil is pressed at temperatures below 40 degrees and therefore it is excellent for healthy recipes in terms of a balanced diet.
The vitamin E content of 33mg is higher than in most olive oils and the omega-3 fatty acid content is also comparably high.
In addition to our organic rapeseed oil, we also have organic extra virgin olive oil 90.015 and organic sunflower seed oil 90.048 in our range. If you are looking for other vegetable oils, please contact us, we will be happy to advise you.